Products from ULTRATEX

Ultratex - deze naam staat voor meer dan 25 jaar ervaring in de verwerking van vliesstof en de technische perfectie van ultrasoon lassen.
De focus? Kwaliteit!
ISO 9001: 2000 gecertificeerd sinds 1998, houdt zich consequent aan alle kwaliteitsfactoren van advies tot levering - met tegelijkertijd een kosteneffectieve productie. Precisie-, advies- en verwerkingsvaardigheden hebben hen tot een sterke partner voor industrie en handel gemaakt.
Bescherming tegen vuil · COVID-19 · Hygiëne · Slijpbescherming · Glansbescherming · Galvanische bescherming · Transportbescherming · Arbeidsveiligheid · Verf- en polijstbescherming · Stofbescherming · Archivering · Verpakking · Stoffering · Voering · Insectenbescherming ...
No results were found for the filter!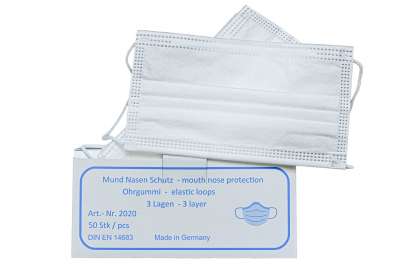 Mouth guard protective mask - made in Germany
Hygienic mouth mask or nose mask / mouth mask Corona protection with a three-layer fleece-meltblown-fleece combination. Face masks protective masks of German quality - These face masks have been extensively tested according to DIN EN...
Content
50 Quanty
(€0.04 * / 1 Quanty)