Products from Ybody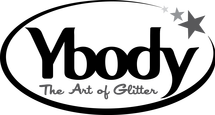 Ybody International Ltd. was established in 2003 and has since specialized in the manufacturing, marketing and sale of Glitter Tattoos and Body Decorations. Ybody's products are sold around the globe.
Ybody works with the highest standard of consumer products and is stringent to the European Standards for Cosmetics.
Ybody has developed an exclusive high quality "Pink Body Glue", The world's best body glue, which is listed with the US Food and Drug Administration (FDA), and marked as CE for the European Union.
No results were found for the filter!
Jofrika makeup pencils rainbow
Jofrika makeup pencils rainbow The Easy Pen Rainbow Set by Jofrika contains 6 skin-friendly water-based make-up pencils in the colours pink, purple, light green, light blue, orange and yellow. The colourful selection offers you unlimited...
Ybody Glitter Tattoo 2 Brush set
Brush set 2 pcs for applying glitter for tattoos. Use the small brush to scoop the glitter from the jar onto the skin. Use the large brush to wipe off the excess glitter afterwards.
Content
2 Quanty
(€1.48 * / 1 Quanty)